General Dentist Alvin, TX
Alvin, TX Dentist
The world of healthcare branches into many specialists, and one is dentistry. You see a primary care provider like family practice or internal medicine doctor for your everyday health needs. Therefore, you need a general dentist for preventive, diagnostic, and general dental care.
Alvin Smiles is the place to be when oral issues occur. At our Alvin, Texas dental office, you will experience general dentistry from caring and expert dental professionals with years of experience. Also, we believe it is essential to practice good oral hygiene from an early age, that is why we pride ourselves on being full-service, local family dentists.
We provide healthy, beautiful smiles for your entire family in a safe and caring environment. Our experienced dentists understand your concerns and unique dental needs and then individualize your dental treatment presenting you options clearly and concisely. This attention to detail is how we can provide the best general dentistry services in Alvin, TX.
Our general dentistry services involve preventing, evaluating, diagnosing, and treating oral cavity diseases while maintaining the function and appearance of your teeth.
General Dentistry Procedures We Offer
Alvin Smiles offers a wide range of general dentistry procedures
Oral Exams
Performing meticulous oral care at home is an excellent way to keep away dental issues, but for the prolonged health of your teeth and gums, you should visit your dentist every six months. Our experienced dentist and dental hygienist assess your mouth to look for signs of tooth decay, gum and teeth disease, and oral cancer. Regular oral exams ensure that oral health issues are caught early and treated conservatively.
Teeth Cleaning
Teeth cleaning helps maintain the overall health of your teeth and gums. Our experienced dental hygienist examines your teeth for plaque and tartar build-up and removes them as well as gives you tips on proper brushing and flossing to keep your oral cavity healthy.
Fillings
Dental fillings help fix the tooth or teeth that have been damaged by decay or worn away due to trauma. Restoring the tooth with a filling material helps sustain the integrity of the tooth and inhibit future damage, which can help you prevent losing the tooth. The dentist at Alvin Smiles carefully removes the decayed material from your tooth and applies virtually painless dental filling material to repair the hole.
X-Rays
Dental X-rays are useful for examining jawbones and various tooth structures. It helps find image cavities, periodontal disease, bone or gum loss, benign or malignant tumors, and other normal or abnormal teeth structures. Dental X-rays use controlled pulses of radiation to create images of the internal structures of the jaw and mouth.
Bridges and Crowns
Dental bridges and crowns help restore damaged or missing teeth. They also serve as a cosmetic procedure, restoring a discolored tooth to its former color or replacing the tooth. The prosthetic teeth are made of natural material, so nobody will be able to tell you have undergone a dental procedure to restore the teeth.
Other dental procedures we offer are abscess tooth treatment, emergency dental care, toothache relief, fluoride treatment, tooth extraction, and dental implants. We also offer orthodontics, partial and complete dentures, root canal treatment, tooth whitening, veneers, and sedation dentistry.
Why Choose Us
You can expect a professional and comfortable environment and greeted by our friendly staff. We take your comfort and concerns seriously that is why we follow the philosophy:
Care – We not just provide Dental Treatments but top-notch Dental Care.
Comfort – Patient comfort is of the utmost importance to us. Thus, we use state-of-the-art equipment and branded products.
Convenience – Late evening and weekend appointments are available for the convenience of busy people.
We also offer several New Patient specials that you can see below.
To schedule your appointment with a general dentist at Alvin Smiles, call us today at 281-824-4270.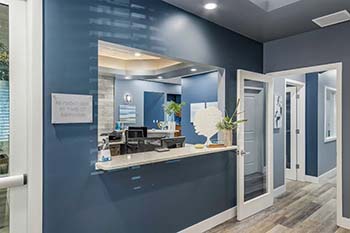 WHEN SHOULD I SEE MY DENTIST?
Waiting until the last minute? Do not wait until a dental problem arises, preventative dental maintenance is the key to a comfortable dental visit and good oral health. At Prestige Dental Clinic, your comfort is our top priority. Come in and see how easy it can be!
CALL US TODAY AT 281-824-4270 TO LEARN MORE.
---
---
OPEN SATURDAYS!
OPEN LATE!
Why choose Alvin Smiles?
A state-of-the-art dental facility, owned by a local dentist to provide top-notch dental care for all age group of patients
Branded products and latest technology used
Late Evening and Weekend Hours to provide the most flexibility for our busy clients
IV Sedation & Laughing Gas for our anxious patients
Trusted, Caring and Compassionate team members
Affordable dental treatment
Convenient methods of payment and monthly payment plans
In-network with major PPO insurances
Meet The Best Dentists In Alvin, TX